PIES
Available in 9 inch, 8 inch and single serve unless otherwise specified.

Apple- Made with local apples
Peach- Made with local peaches
Cherry- Sour cherries
Blueberry- Wild blueberries
Strawberry Rhubarb- Made with local rhubarb
Raisin– 8 inch and single serve
Lemon Sponge- Two layer custard pie
Shoofly- Wet bottom molasses based pie
Pecan
Montgomery- Lemon flavored two layer pie
Key Lime- 8 inch
Peanut Butter- 9 inch
Cheesecake- 8 inch
SEASONAL PIES
Available by special order unless specified.

French Apple- Raisins, apple (local) and a drizzle on top
Black Raspberry- Made with local raspberries (June – July)
Coconut Cream- Meringue top (all major holidays)
Chocolate Cream- Meringue top (all major holidays)
Lemon Meringue- (All major holidays)
Fresh Strawberry- (January – May)
Pumpkin- (September – December)
Egg Custard- (February – Easter)
Coconut Custard- (February – Easter)
Raspberry Custard- (Available during fresh raspberry season)
Mincemeat- (November – December)
WHOOPIE PIES
Available in packs of 3 or single serve.

Chocolate with Vanilla Filling
Chocolate with Peanut Butter Filling
Pumpkin with Vanilla Filling
Red Velvet with Vanilla Filling- seasonal
DUMPLINGS & CRISPS 
Made with local fruit.
 
Apple Dumplings- (August-February)
Peach Dumplings- (June-August)
Apple Crisp- (August-February)
COOKIES
Available in ½ dozens or packs of 2.

Soft Sugar
Soft Sugar with Chocolate Chips
Chocolate Chip
Oatmeal Raisin
Molasses
Snickerdoodle
Peanut Butter
Irish Shortbread- 8 oz packs
Sandtarts- Available by the dozen
Iced Sugar Cookies- Single
Pumpkin with Caramel Glaze- (October-November)
CHRISTMAS COOKIES
Available December only by the dozen.

Peanut Butter Blossoms
Dusted Brownie Cookies
Triple Chocolate Morsel
Date Pinwheels
Black Walnut Tea Cookies
Cheesecake Cookies- Made with store made jams.
Pecan Sandies
Pecan Tassies
Chocolate Covered Cherry Cookies
Rollin' in Walnut Cookies
Christmas Cookies also available in:
2 dozen or 3 dozen assorted tins
5 dozen or 10 dozen assorted trays
QUICK BREADS
Available by the loaf or single serve.

Zucchini- Plain
Zucchini Nut & Raisin
Pumpkin- Plain
Pumpkin Nut & Raisin
Banana Nut
BREADS

White
Wheat
Sourdough
Potato
Sourdough Raisin Bread- By Order
Raisin Bread With Icing- By Order
Rye Sourdough- By Order
Dark German Rye- By Order
1 Dozen Dinner Rolls- By Order
Sandwich Rolls- By Order
OLD FASHIONED BREAD PUDDING

Sticky Bun
Cardamom
Cinnamon Raisin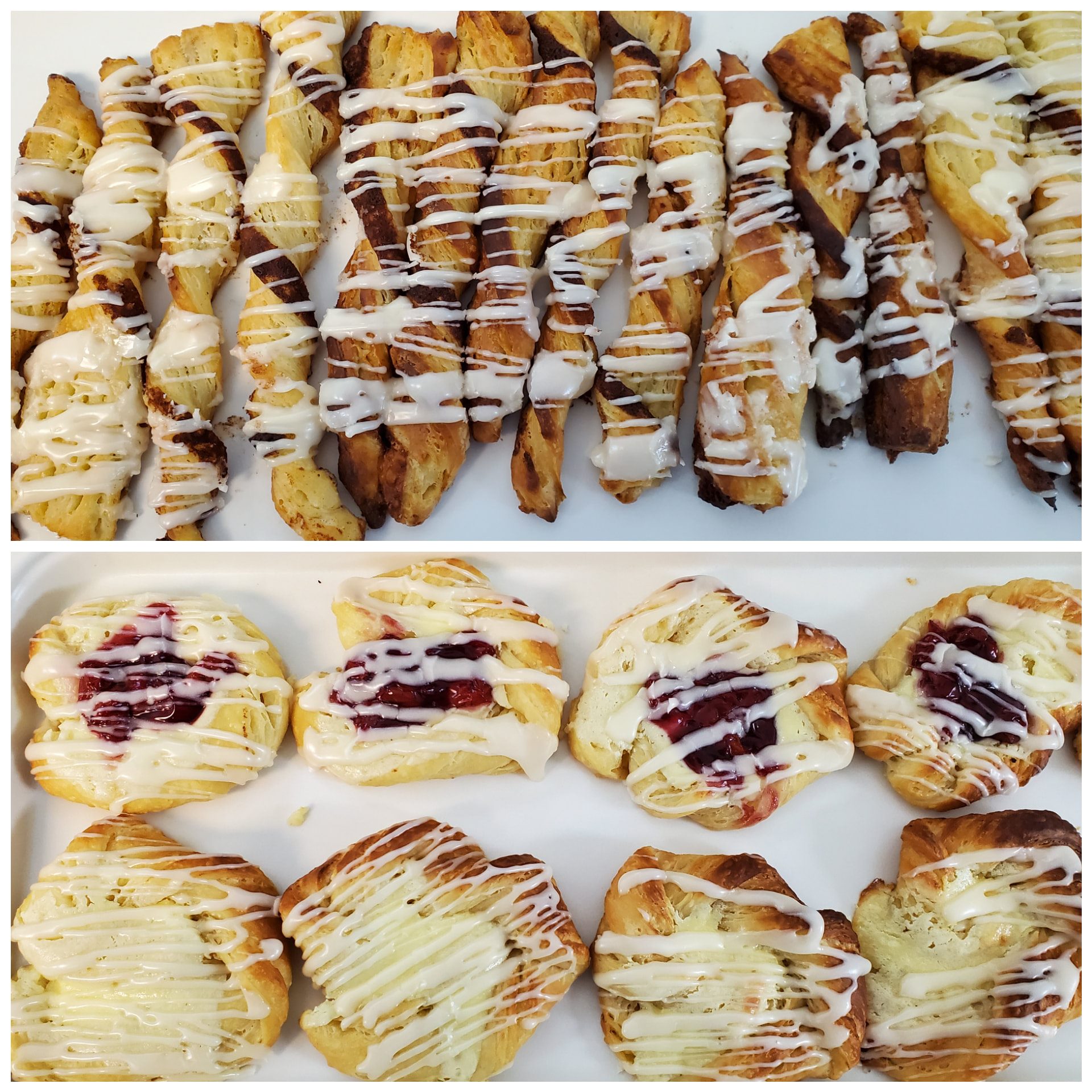 PASTRIES
Made fresh daily.

Sticky Buns- Plain or with English walnuts (Pans of 8, ½ dozen mini or single serve).
Iced Cinnamon Rolls- Pan of 8 or single serve.
Cinnamon Twists- Dozen, ½ dozen, single.
Cheese & Cherry Cheese Danish
Assorted Muffins
DONUTS
Friday and Saturday Only

Glazed, Cinnamon Sugar, Powdered Sugar and Plain
Buttercream Filled or Unfilled
Our donuts are the old Pennsylvania Dutch Fastnachts! Fastnachts are a potato donut that are traditionally eaten plain and dipped in Molasses. The tradition includes being made on Fat Tuesday to remove all starches from the house leading into Lent.
CAKES
8 inch square or single serve.

Chocolate- Peanut Butter, Buttercream or Chocolate Frosting.
Vanilla- Chocolate or Buttercream Frosting.
Carrot with Walnuts- Cream Cheese Frosting.
Coconut- Buttercream Frosting.
Red Velvet- Seasonal or special order.
Spice-  Clove & cinnamon (seasonal or special order).
Black Walnut- Special order only, price will vary.
DECORATED CAKES
We have a selection of premade rosette style decorated cakes available in store.
6 inch double layer- Serves 8-10
8 inch double layer- Serves 16-20
Special Orders start at $25 (72 hour notice required).  Please call us at
717-218-5258 for pricing and to place your order.
Sorry- We do not make Wedding Cakes.
CUPCAKES
Available by the ½ dozen in store.
Special Order- Start at $15 a dozen
Mini Cupcakes- Start at $10 a dozen (By Order).
COFFEE CAKES
Available in a large or small loaf. Selection varies by the season.

Banana Nut with Chocolate Chips
Pumpkin with Chocolate Chips
Apple with Pecans & Cinnamon Glaze
Blueberry Lemon
Cherry Pudding- Vanilla with whole cherries.